Posted By
Zac
Creating Entrepreneurs in the Favelas in Rio de Janeiro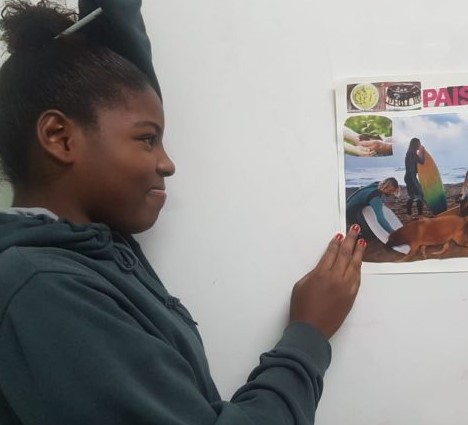 By Anna Bowman
We are in the heart of the second year of the Entrepreneurship Course. And I'm not going to lie: when I'm planning and before each class, my nerves are high. I need some time to stop and breathe and remind myself that everything is going to be fine.
My worries are not for the reasons you'd think (e.g. unruly students and entering a favela largely ruled by traffickers); my nerves are instead because we have mountainous goals and I so badly want to make each class count.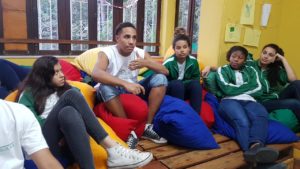 Luckily, I have the support of the following amazing volunteers who bring so much character, experience, and talent to the table that I know this year will be even more successful than our impressive first year.
There's Karin, the German-Paraguayan who lights up the room. Karin brings such great energy coupled with a mother's sternness to keep the students in line. She's an entrepreneur, a volunteer and has a huge network she is able to bring regularly to our students. She's an ideas gal and an encyclopedia of Ted Talks to help make our material more powerful and enlightening. Karin delivered our "Enter the Labour Market" unit last year and is now regularly taking classes across all topics.
Our newest volunteer team member is Albert from the Netherlands who has become our CANVAS expert and has quickly found his place at the head of the classroom patiently explaining some of the more complicated theory topics. Albert has many years of business, management and training experience to bring to the students.
Roberto from Brazil, who joined us as a volunteer in the middle of last year, brings his experience as an energetic entrepreneur and business consultant. Roberto creates a classroom dynamic of empowering activities combined with a firm push in the direction of success so that the students really get engaged in the course, work hard and stay accountable. He's our creative genius, our speaker of many languages, and he relates to the kids in a way where they know their input is valued.
Our Entrepreneurship Goals
So back to our goals that have got my palms a bit sweaty. Here's what we aim to achieve:
Teach our students how to start their own businesses

Teach them the skills they will need as business owners; based on Enabling Enterprises:
Teamwork

Leadership

Aiming high

Positivity

Presentation skills

Problem Solving
Help our students find their purposes in life

Give them practical English experience and prepare them for the workforce

Turn them into leaders in the community

Create and deliver a group project

And finally, to plan and present to a panel of entrepreneurs their very own project – in English!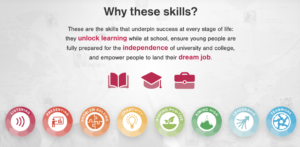 And how do we do this exactly?
Here are some of the activities we've used:
Dreaming
Dreaming of a better future is where it all begins. To start the dream journey, Roberto conducted an activity called Circle of Dreams from Dragon Dreaming.
The students were asked to share how they imagined and what they dreamed of for the community in 2030. After that, they closed their eyes and imagined it was 2030 and all of their desires had come to fruition.
Roberto took them on a tour of the best schools, the best healthcare, a place of no violence, no shooting, with tidy, safe and beautiful streets, among the other ideas the students had dreamed of for the future. This was a truly alluring and mightily powerful activity that filled us with a strong vision.
Purpose and Golden Circle
Students explored their passions and talents in order to think up an individual purpose. Each of them is now clear on what is important to them and this step is the basis for all of the work we will continue throughout the year. We talk a lot about the Golden Circle, focussing primarily on "Why", then "How," and finally "What". Having a strong purpose is essentially having the "Why" we do something.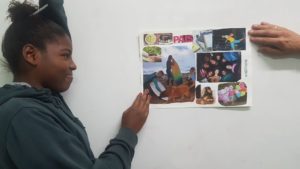 Where do ideas come from?
Because this is another crucial part of the course where purposes became ideas. Coming up with the best business idea for you is something that takes repetition, trial, and error. We practiced combining our skills and our passions in random combinations and thinking of an idea that would suit each student many times.
Meeting Entrepreneurs and Mentoring
Each year we have some amazing entrepreneurs who volunteer their time and expertise to give the students some insight from real entrepreneurs and to inspire them with their stories. At the beginning of the year, Karin brought in 16 Cambridge Judge Business University Masters students to meet our students and have some Q&A. The group now act as mentors for our students to give them advice in whatever area of business they might need now and in the future.
Presenting
The students practice presenting at almost every step in the course. We want them to really develop this skill that will serve them for the rest of their lives. We try to include as many role-play activities as possible. Most importantly the students recently created Elevator Pitch videos where they presented their project while building rapport and explaining how their project catered to specific needs.
So, what's next?
The students know their individual purposes ✔
The students have decided on their projects ✔
and at the moment they are completing their CANVAS business models.
We have even come up with the most incredible group project which involves our students being a consultancy team for micro-businesses in the community – how amazing is that?
We can't wait to update you on more throughout the year!
Are you interested in volunteering with our amazing volunteer team in Rio de Janeiro? Apply now!
Bio Anna Bowman: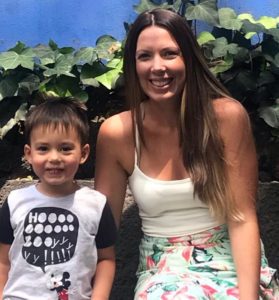 New Zealand born with a large chunk of professional experience based in the financial sector in Australia. Currently residing with my Brazilian partner and young son in Rio de Janeiro where I divide my working hours between teaching English and volunteering as the coordinator of EduMais' Entrepreneurship program. Driving social impact, exploring this planet, triathlons and vegetarian cooking are some of the things that keep my soul happy.