Posted By
Daan Gooren
Iris talking with Diana "The impact will already last a lifetime"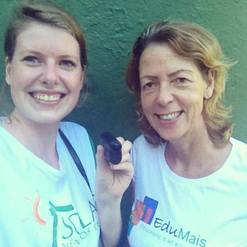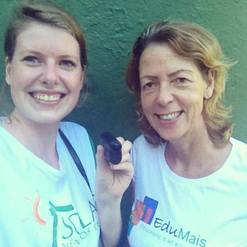 "There is this Dutch lady working in the favelas here in Rio! I think her project would fit you so well!"
How it all started, a simple tip. It got stuck in my head and I reached out to Diana. During the Skype interview I felt it in my stomach, this is the internship for me.
Never could I have known how great this experience would be and how much I would feel at home. After 6 months in Rio I switched from studying to working. Going from the richest part to the poorest.
When I started I had one question: what is the impact of EduMais?
August 2016. The month EduMais was born and I arrived in Rio. Our Rio history has the same length but the impact of EduMais will last a lifetime. I started wondering: What happened before my arrival at EduMais and how could Diana achieve this so quickly?
Diana: "In 2012 I started volunteering in a favela (a slum) in Rio. I experienced, first hand, how challenging it is to work with children who live in a violent, disruptive and dirty environment. I got the opportunity to develop educational programs and designed them with a strong focus on how to deal with the lack of memory, focus and rationalisation skills of these children. With this, the foundation of EduMais was born and the start-up was smooth because I knew what worked and didn't work."
Knowing how to work with these children made EduMais grow quickly. Only 7 months after the start, I joined a team that was providing education to more than 200 children each week. I saw the joy, the love, the dedication and was sold for life. At my arrival, I got the news that a new location would be opened in the top of the favela. "Can we go up there to take a look?" I asked. Of course!
Together with Diana, I went to the top of the favela. It is a district with its conflict, shootings and gangs. Being a little nervous was very normal, luckily Diana made me feel safe.
At this new location we will start a new adventure. EduMais will be giving complementary education to children who live in a part of the community that is ruled by the gang life and so impacted by the poverty. I entered the poorest part and it hit me, this is the reality of our students. Houses with open holes that supposed to be windows, dirt everywhere, a broken mattress on the floor where parents and their five children need to sleep, lucky if there is fresh air and some light coming in. I asked Diana about the lives of these children, our EduMais children.
Diana: "Their parents hardly have the means to get around and they go to public schools that offer a low level of education only three hours a day. Imagine your life when you go to a school where you learn to steal and fight instead of read and write. I sometimes wonder which choice I would make. Would continuing school be worth it? Wouldn't it be better to join a gang or become a prostitute?" I agreed, you must be extremely determined.
EduMais figured out the best way to help these children. The programs focus a lot on social & emotional learning and all the volunteers work with Positive Discipline. This to develop their self-control, problem solving and listening skills which are necessary to empower them to be successful in their future life. The magical formula is to give love, life skills and then academic skills.
Through EduMais I see what education does, how it can change lives and give hope. The impact on our EduMais children reaches as far as possible. The excitement and happy faces show that it means something for them and that the programs have impact even after 9 months. This touches the hearts of the team and makes us all realize that we are changing their lives with our love, dedication and time. It's all Diana ever wanted for EduMais and I am more than thankful to be a part of this journey.
​Together we will help EduMais grow old.