Posted By
Daan Gooren
Hilarious Stand Up Comedy in English for EduMais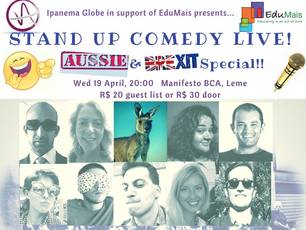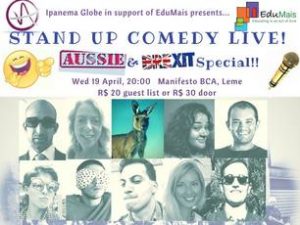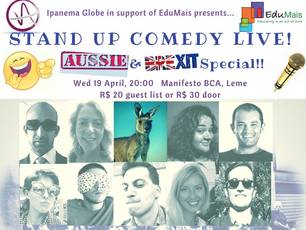 For the second consecutive event, Ipanema Globe is supporting EduMais which provides valuable life and academic skills to underprivileged children in comunidades in Rio. Diana manages the local operation with consistent dedication.
On Wednesday 19 April 2017 talented people line-up….waiting to make you laugh at Manifesto BCA in Leme, Copacabana.
​
..with MC Amitov, Pierre Rosa, Maisa Fonseca, Pedro Bastos and other comedians on the Carioca and International circuit.
Hot topics include politics, romance, culture and a touch of AUSSIE & BREXIT humour!!
AMITOV
…a regular MC and performer on the Carioca circuit for comedy and storytelling events including the Brazil-101 Olympic series in 2016. Amitov seems to enjoy a fair amount of audience participation and prefers more awkard and controversial humour!
"A fake and self-proclaimed Carioca da Gema and he's not even from our neighbourhood" – Minister of Cultural Affairs, Barra da Tijuca
"Build that wall between him and the audience… drain that stage!" – Donnie Trump
PEDRO BASTOS
…if you like your comedy direct, aggressive and to the point, Pedro is your man. Even gangsters pretend to assault him just to get a few mins of his stage routine. Pedro has been a regular in the US and Rio circuits and appeared in the Brazil-101 Olympic series in 2016.
"A true champion for political correctness" – Sean Spicer
"I had to reboot my pacemaker after Pedro's set" – local Copacabana priest who took a wrong turn into the Manifesto basement
RICH S.
…a Canadian lawyer, increasingly present on the stand-up and storytelling scene with his unique talent for merging capivaras, corporate law and Pokemon into the same comedic narrative.
"A truly educated comedian" – Betsy DeVos
"Time to build that northern border wall" – Donnie Trump
MARIA GRINGA
… (apparently) sweet, (supposedly) innocent and (genuinely) authentic brasuca-gringa who performed on the East coast before returning to Rio to get involved in acting, comedy and singing. Also performed in the Brazil-101 Olympic series in 2016.
"If she starts singing, deport her immediately" – US Border Agency
"She started singing again, you can have her back" – Brazilian Border Agency
MAISA FONSECA
… an emerging comedy talent specialising in relationship therapy [disclaimer*] and political analysis [even a disclaimer won't suffice*]. If we wanted to censor Maisa, she would be left with less than 30 seconds of material. We recommend a couple of strong drinks to desensitise yourself before she gets on stage!
"She is my biggest obstacle to becoming President" – Tiririca
"The most famous Brazilian comic on road from Idaho to Alabama" – Drunken redneck (groom) at his sister's wedding
PIERRE ROSA
…a clown without make-up who perforrms frequently in Rio and overseas for different comedy groups. Pierre is one of the pioneers of stand-up comedy in Brazil (both in English and Portuguese) and joins us for the first time at Stand Up Comedy Live.
"He was actually quite funny so I saved my tomatoes for the next poor guy on stage" – Olympic heckler and tomato throwing gold medallist.
"I laughed so much I could not control myself" – random guy who inhaled helium
RIC SILVEIRA
…he started performing stand-up in English in 2017 and brings plenty of comedy inspiration to the scene with his tales of distant backpacking adventures and culture shocks.
"We found him looking confused, lost and claiming to be far from home without his passport" – Police at Central Station, RJ
"He brings youth and inspiration to this crowd of old and unfunny comedy hacks" – audience gatecrasher
RACHEL BRABBINS
…our charming lass from Leicester, made even more famous by her local football team's surprise success in the English Premiership!! Rachel organises the raffle prize draw – somehow arranging a few bizarre prizes within every selection – and helps with the promotion of our comedy and music events. ​