Posted By
Daan Gooren
A trip to the National Museum of Fine Arts in Rio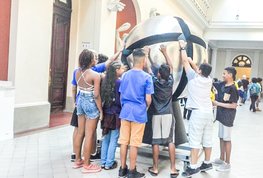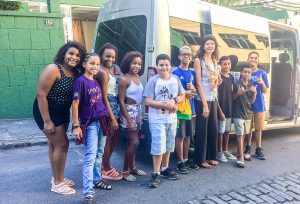 A pleasant Wednesday afternoon. Nine students from the surrounding communities hop on a van to enjoy a much anticipated excursion to the Museum of Fine Arts in Rio de Janeiro. Complements of the Rio International Club to allow our students to be on the van for the first time in their lives. And Peter Taborr- our guide.
Students were whisked around the galleries, presented with grandiose still lifes, Greek and Roman sculptures, and various modern art oddities peppered around the collection.
We explored. We played. We questioned.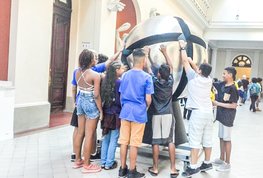 ​Students particularly enjoyed the giant sphere that allowed you to interact and push it around some unseen axis. Any chance to touch or play with an object is a sure winner. There are many ways to interact with the fine arts and even if we weren't allowed to touch, the artwork certainly spoke to us in a myriad of ways, through a piercing portrait's stare or a roaring, larger than life battle scene. We were transfixed. In all, the students were exposed to and open to a number of possibilities for creation. We returned from our afternoon of art inspired and already asking about the next trip!