Posted By
Sergio
A Nine Month Sojourn as volunteer in Rio de Janeiro!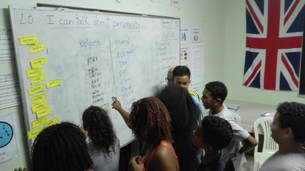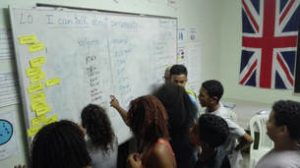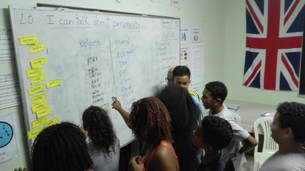 9 Months of volunteering with Edumais has certainly made its impact upon me, but just how deep can't be known yet. It all started from humble beginnings, just a seed, an idea that I see blossoming now just as I have recently moved on. The effects will long be unfurling for many moons to come. The idea of 'giving it forward.' has been sinking in and why we are motivated to give to being with. When we give we also receive back in the form of love, inspiration, and energy among other boons. In this act of giving we also inspire others to give, therefore creating a conduit through which more giving can occur. If we all just gave a little more and centered our beings on this act, how transformative might this be not only for ourselves but entire communities?!
Back in September, I decided to begin my year of giving in welcoming our first community English class student, who could only manage a couple classes due to familial obligations. Soon after, a young lady named Emily joined and thus began the Monday/Thursday classes. At first, more like private lessons but then we grew to two then to four before the Summer holiday break. After the break, word got out, and the class had mushroomed to seven regular committed students.
"Energizer" activity!
These students come from different areas in the Cantagalo and Pavão-Pavãozinho communities, going to school all morning then dedicating two hours in the afternoon, two days per week. Sometimes it rains and they stay home. Sometimes they fall asleep after school and fail to wake up for class. These are just a few of the minor setbacks, but overall, the commitment and interest is growing. I am beyond proud of their dedication and enthusiasm.
​A typical class starts with me welcoming and checking in with the students to see how they are feeling and learn of any news they may have to share. Then we do a quick energizer to 'wake' everyone up. A trivia activity or simple game, like how many words can you think of that start with the letter 'A.' We move on to discuss the class topic, perhaps numbers, telling time, or hobbies. We always try to incorporate games and keep the activities as creative as possible. One of our favorites- telephone or as they know it 'telefone sem fio,' where a short English phrase is whispered into the ear of one student and they then have to whisper it into the ear of an adjacent student and so on.
The students find it hilarious. I just love to see their facial expressions when they hear the muffled English phrase. "What!" "I have no idea!" "Just invent something," the others exclaim. "I can't invent something in English!" But they always do and manage to make a riot out of the game.
Telephone game- Umberto passes the message to Ylan!
One of the best aspects of working with Edumais has been the time and space to implement social and emotional learning with our students- something that is crucial and fundamental to all learning spaces, but often overlooked in other school settings.
At the end of the class, sometimes we close with a circle of compliments. Students take turns giving a compliment to a classmate. This is something new in their lives- learning to give and receive compliments is something very important. I can see it is awkward for them, but I encourage them to understand that we are building a community that is fun and safe. Part of that safety is in knowing that we are all welcome and belong in this class.
May approached, marking the end of my sojourn (for now) and good byes are never easy but at least I depart with a wealth of good memories from my time teaching here. I feel so blessed to have had this opportunity to work with these amazing kids! I am proud of them. I am impressed. I have a lot of respect for the dedication they have shown. I plan to stay connected with this incredible organization and I leave knowing the project will continue to grow and prosper.
​
Thank you Edumais!!!!!